From exploring restaurants, finding properties, to book movies, here are the top mobile apps every expat should download while living in Singapore.
Are you new to Singapore?
If so, you must have a hard time exploring the city.
You don't know which bus will take you to the place you want to visit. You won't be aware of the good veggie restaurants in Singapore. Where can you watch your favorite movie in the city?
On the top of that, you can't carry a map all the time or hesitate to ask the passer-by every now and then.
Don't worry!
This is the ultimate guide of Kvrsingapore, to download the mobile apps to make your stay in Singapore convenient, easy and hassle free. Whether you are looking for a restaurant, find the property, hiring a taxi, there is a mobile app out there for your all daily needs. Even tuition agencies in Singapore are also using mobile apps in their teaching procedure.
7 Essential Apps for a Newbie in Singapore
Here we have listed the top mobile apps you should download to make your life easier in Singapore like locals.
1) GrabTaxi If You Want to Hire a Cab or Vehicle
GrabTaxi is one of the popular transportation apps in Singapore. It provides booking services for cabs, taxies, private cars, motorbikes and more. The mobile app lets you book the transport in just two swipes. Besides, you can know the nearest driver and his estimated time of arrival in real-time. The app also allows you to share your trip details with your friends and loved ones. So, download it now and make your daily commute easy and comfortable.
GrabTaxi is available for both iOS and Android for free.
2) SG Buses to Know Local Bus Schedules and Routes:
SG Buses mobile app is your trusted local bus guide! This is because it shows you nearby bus stops, bus routes, and arrival time for SBS and SMRT buses. The mobile app also lets you search and browse bus service info by route names, bus stop ID and road names.
It is a free mobile app available for both Android and iOS.
3) Ohmyhome App Helps You Find Accommodation:
Needless to say that accommodation is the first thing you look for while moving to a new city. There are many popular property mobile apps in Singapore and among them, Ohmyhome app helps you find the right property in your budget, at your desired locations. With Ohmyhome, you can explore thousands of properties available in Singapore for buy and rent. It is very simple to use! Just log in and turn on your location and notification. The app will display the properties available for rent or sale in your desired neighborhood. It also lets you contact the owner or landlord via phone or message.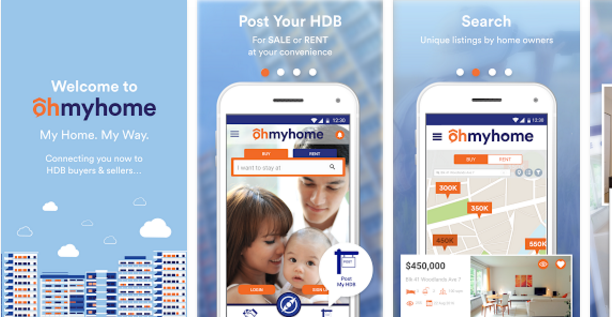 It is a free mobile app available for both iOS and Android.
4) Popcorn for Movies Showtimes:
With Popcorn mobile app, you can check movie showtimes, book tickets for all major cinema chains, watch movie trailers and see seating availability at glance. In short, it is your all-in-one movie ticketing app.
It is a free mobile app available for both iOS and Android.
5) Burpple Finds Best Restaurants near You:
If you are looking for places to eating out with your loved ones, Burpple deserves a space in your phone. Whether its date night, business meeting, family dinner or weekend brunch, Burpple is like your companion helping you explore the right places to eat in Singapore. It is the popular food app in Singapore with over 5 million downloads. Burpple lets you explore best places to eat near you with photos and genuine reviews.
It is a free mobile app available for both iOS and Android.
6) Zalora Meets Your Fashion Needs:
Zalora is one of the popular shopping and fashion mobile apps in Singapore. It showcase the entire catalogue of fashion products for both men and women which include watches, sneakers, dresses, skincare, wallets, footwear, clothes and many more. On the top of all the stuff you can order, Zalora also lets you keep the track of the best deals and discounts. The app features myriad of secure payment options including card payment, net banking and cash on delivery.
It is a free mobile app available for both iOS and Android.
7) AXS M Station to Pay Your Bills:
With AXS m-station, you can make payments for your bills and fines anywhere, anytime. From utility bills, credit cards, loans, insurance, healthcare and membership, this mobile app allows you pay all types of bill with few swipes. Besides, the app is used to make the payments to various agencies like Housing Development Board, Land Transport Authority, MyEG, National Park Service, State Courts and Traffic Police. The app generates e-mail receipt of all your transactions. You can stay updated with the latest AXS news via push notifications.
It is a free mobile app available for both iOS and Android.
With the help of these mobile apps, you will have much easier life on the island. So, wait not more and download them now to make your stay even wonderful in Singapore.
Author: Varun Sharma
Started working as a digital marketing expert,
Varun Sharma
is now also a well-known digital marketing speaker – a speaker on performance development, and a trusted mentor to businesses in the digital world.