"Hiring SEO Agency can either make or break your company's reputation."
SEO is a standout amongst the best long haul marketing strategies accessible to businesses that might want to build their online reputation, but choosing who to hire for SEO work isn't an easy decision as there are numbers of SEO myths and misconceptions rolling on web.
You must have seen many SEO firms taking shortcuts that can temporarily improve rankings, but damage your reputation in the future. Others might have less experience and may not give the results you're looking for.
Now decide on your own, which SEO agency you want to work with. Here are the 15 questions one need to ask before hiring an SEO agency in Singapore;
A) Questions to Ask Yourself Before Hiring a Company;
#1 Is that Company Registered?
You need to check and inquire thoroughly whether that company is registered or not. Remember that if the SEO agency is registered, then only you can trust them to work in favor of you.
To check they are registered, either you can make a thorough Google search or you can ask other SEO agencies as well.
#2 Check Out Their Experience in SEO
Experience has its own effect and it's useful for businesses too. While you may dig up an extensive number of the recently settled SEO agencies offering you an interesting deal on their SEO services, but they won't be able to fulfill your needs.
Moreover, with experienced agencies, you can expect long term profits from SEO with lots of traffic on your website.
#3 Check Online Reviews of the Company
From past few years, Internet audits have had the ability to make or break the reputation of businesses. But now, these online reviews have even entered into search algorithms. This means that online reputation management now falls into the domain of SEO.
So when you're looking through reviews of potential agencies, you're even playing out an essential component of the modern internet review. Understand that awesome testimonials are the ultimate marketing tool.
For SEO, search for them on Google My Business, LinkedIn, and Facebook.
#4 How Many Team Members They Have?
Make sure while hiring an SEO agency, you check their online profile and their website seriously. If you are hiring a team, you must know how many people are working in that team.
While checking on their website, there comes an option "meet our team". You can click on that and check number of employees working.
#5 Do They Have a Client Portfolio?
The easiest way to understand more about the SEO company you planning to hire, is to check their customer portfolio. If they don't have a portfolio on their site, then request for it. Scan through the list and visit a few of the mentioned sites to get an idea from the services being used by different other organizations.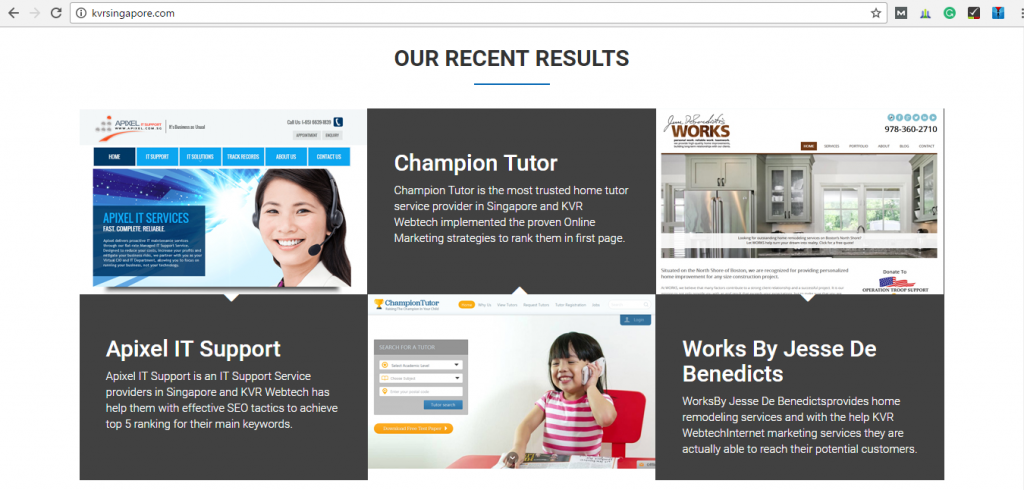 B) Questions to Ask an SEO Company Before Hiring It:
#1 How will You Improve Search Engine Rankings of My Website?
They may be not able to reply this question that: "We're going to get links from A, B, or C websites."
What they can let you know is- "We'll begin with an on-site technical SEO review to identify any areas for quick results. Then, we'll stumble upon the best keywords to target on."
Try to get some information about the links: Backlinks have been a major part of search engine algorithms for quite a while and will keep on playing a major part later on. All SEOs will assemble links to your site with a specific end goal to enhance rankings.
Keep in mind! One great backlink is worth more than thousands of low-quality backlinks.
#2 Do You Guarantee Results in the Search Engines?
No- it is the most honest answer to this question to be very frank! Google has expressed that any agency that commits something is disregarding their rules. No agency can promise the top place in Google or make any comparative claims.
Authentic agencies may make different types of guarantees, similar to ROI or guarantee satisfaction. These looser guarantees are more dependable, however, it's imperative to test the significance of this certification and understand the language of it before you fully trust it.
#3 Can You Share the Results of Your Past Clients?
A legitimate SEO specialist ought to be interested to share a brief list of present and previous customers and their contact details.
These references can help you estimate how successful the agency is, and even confirm that the agency has done satisfying work till his SEO campaign. Customers may not give particular analytics, but they should be able to tell you the positive or negative impact on their search ranking, particularly in conversion rates and getting the audience on the website, as an immediate result of the agency's efforts.
#4 What Types of SEO Work will You Do?
This may come up when you ask different inquiries on this list, however, if it hasn't yet, try to ask this question sooner or later.
There ought to be no less than a specialized SEO review done, once you hire an SEO agency. If this isn't a part of their procedure, then they are not at all a great SEOs.
Specialized SEO includes maximum part of the background aspects of SEO that search engines still think about. Finding and addressing the web crawler errors, redirect problems, 404 pages, indexing your website and assessing site navigation are all part of technical SEO. You can also ask them how they can boost the website conversion rate and traffic.
#5 Which Tools Do You Use in SEO?
An agency that doesn't use tools will do certain things manually that should be automated, and this converts into higher expenses for you. It's essential to have some knowledge about the types of tools the agency is using for SEO like;
Automatic link building
Automatic content producing
Automate the idea generating process
Automate outreach or online networking efforts
But, instead of this, a good SEO company should be using tools to:
Gauge the capability of ideas
Measure the competition
Find the needs of the target audience
Track results and ROI
Measure the capability of linking opportunities
Quickly find influencers, targets, and so on.
#6 How Often will You Report on Your Work?
An agency reporting should be clear by making the client understand that how your rankings have enhanced or how many links they have made. You ought to have the ability to see where the links are originating from, what the content looks like, and how the progress is linked to their actions.
Preferably, the agency also has the ability to show results not only in terms of ranking, domain authority, and links, but with regards to dollars and pennies too. Maybe more than anything else, the actions ought to be legitimate as marketing efforts and should appear spam or manipulative.
Reporting should be completely transparent and should be given timely as the client expects to. It can be either daily, or weekly or monthly as well.
#7 What are Your Fees and Payment Terms?
Before hiring an SEO agency, do ask their fees and payment terms. Payment structures differ commonly, depending upon a project's size and complexity.
You must know that at what time you need to pay and how much. This helps in maintaining your budget. The most widely recognized payments ranges from lower end to the higher end, depending upon hourly rates.
Last but not the least, check out when you need to make payment. For example, if your project is freelancing based, then they want a payment either in 30 days, 60 or either 90 days. You need to check or confirm your agency, whether there is an interest fee for late payments or not.
#8 How Do You Measure SEO Success?
The long term achievement of an SEO project is measured in dollars and pennies earned through organic search traffic. While an all around arranged SEO procedure ought to be designed to win a benefit from referral traffic and branding alone.
The objective of SEO is to deliver steady growth in traffic from the organic outcomes in the search engines: not paid traffic, not referral traffic. This is the thing that makes it so compelling.
#9 What Happens if You Terminate the Contract with The Agency?
This is for your own safety. It's imperative to realize what you're getting yourself into. So, it's too one of the important questions to ask.
While signing up for an SEO Services, you need to understand that it is a long term process. It takes an ample amount of time in order to get success. It's not at all possible that you hire an SEO agency and within a month you'll get the results.
In the meantime, if your organization has an emergency and all of a sudden can't bear to pay for SEO services, you should know your options.
There are different situations in which you would need to break the agreement. Perhaps you're frustrated with the work the SEO has created, or possibly your marketing department needs to focus resources on the other traffic source. You can change as well as terminate the contract if you want to.
Well! In that case, nothing happens. But, you need to check whether there are any charges or fees written into the contract for early termination or not.
#10 How will We Contact You?
Find out which methods of communication they choose. Also, tell them what you wish and in what way you want your work to be done. Also, ask them how can you contact them if an emergency arises like, if the site went down or if search traffic dramatically declined.
SEO is quite different from the other services. In other services, you don't need to contact your SEO agency again and again. Once in a while is fine.
In any case, if something goes wrong, or you have any serious issue to talk about, you need to have the ability to take a few to get a hold of them as soon as possible.
Conclusion
A good SEO will get you on the way to make a huge number of dollars every month, but a bad SEO could cripple any existing search traffic you get. So, choose carefully! If you are looking for professional SEO Company in Singapore, KVR Webtech is the name, you can consider.
Do tell us in a comment below that how did you complete your 'hiring an SEO agency' process!
Author: Varun Sharma
Started working as a digital marketing expert,
Varun Sharma
is now also a well-known digital marketing speaker – a speaker on performance development, and a trusted mentor to businesses in the digital world.