In the past few years, Singapore has established its place as one of the world's leading social media societies as compared to the global average. It's been found that every 2 in 3 S'poreans is addicted to social networking sites. With the maximum use of smartphones and a large population of multi-device users, Singapore is a home to flourishing online communities and sophisticated users for whom social media has turned into an important part of everyday life.
As the use of social media has turned out to be more inescapable, its impact has spread far beyond social sharing. Now, it's no less than a tool for business to reach as well as engage the target audience. More social media engagement can boost your business visibility.
When we talk about social media, till now the big platforms like, Facebook, Linkedin and Twitter were in the spotlight. But, now there is another platform gaining popularity, i.e., Instagram!
Instagram is quickly turning into the "hero of the social media world". With more than 300 million active users worldwide and around 1.35 million users in Singapore, Instagram has overtaken Twitter in fame. The world's quickest developing social network, Instagram is the favored social platform for youths, young adults, and teenagers.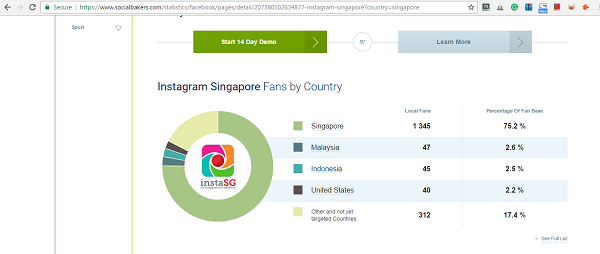 And, now it is getting in trend among businesses too…
Yes! It helps achieving your target audience in order to promote brand, products and services of your business. With 34% of US internet users now using Instagram, after Facebook, now Instagram is what users are using in trend. Instagram posts are 60 times more captivating than Facebook, and 140 times more captivating than Twitter. If we look back at the stats of Instagram in the last three years, Instagram has risen sharply by 63% in Singapore.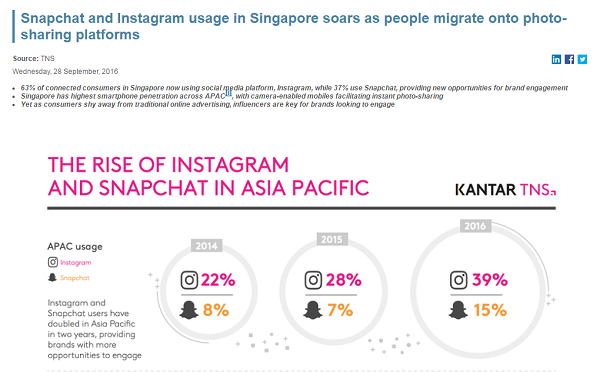 By following the features on Instagram, one can actually look into the future with the help of brand building and marketing…
Before it gets too late, let's grab the opportunity to promote your business through Instagram. Don't know how to get started? Here are the 7 reasons why business in Singapore should use Instagram;
#1 Businesses Get More Opportunity
Instagram is actually offering a remarkable opportunity to businesses who are looking to achieve their targeted audience with drawing in visual content. Visual content helps a lot in boosting up your businesses by giving you more opportunities to share images on Instagram. It is a channel with a wide variety of filters, which gives a unique look to your pictures. You can even use them to pass on your desired mood and message.
#2 Drive traffic and Grow Your Business
When it comes to growing your traffic and your business in Singapore, Instagram plays a great role. It helps in driving traffic to your blog directly through Instagram. Although it's not any easy job like it is on Facebook, Twitter, LinkedIn, Google+, etc. On Instagram, sharing active hyperlinks in your comments and captions is not at all allowed. Active links are only allowed in your bio. So, use them wisely!
In your comments, tell people to click on the link in your bio to directly get in touch with the page you have linked.
#3 Instagram Doesn't Have a Filtered Feed
In Facebook, posts appear in a small proportion of your audience, whereas in Instagram it's not like this. Instagram posts appear in the feeds of your every single follower. This guarantees you that your important content will really get seen, images and videos are seen in order. So, the more you post content regularly, the more it will be seen by your followers.
#4 Best for Product-Based Businesses
According to me, Instagram is the trending social media platform you need to be on, especially if you are a product based business. It is the cheapest and easiest way to promote your product to your target audience and ideal clients.
To get the most engagement and more customers for your products:
Set up your brand's Instagram by sharing images and name of your product with a link
Post content that attracts followers by demonstrating the product
Promote engagement to form relationships by writing captions and running contests
#5 Instagram Boosts Conversion Rate
Achieving high conversion rates is the utmost thing you want from social media channels while doing direct sales. And, Instagram helps you with that as compared to other popular social networking sites.
According to the research done by Shopify, the rate at which Instagram visitors go ahead to make a purchase is 1.08%. This means that out of 100 visitors, one will definitely buy the product or services. Although it's not an essential conversion rate, but it's still the 4th highest among social networking sites.
#6 Helps in Targetting Local Customer
Well! If you are planning to promote your business locally among local audience, then Instagram can actually help. It has got a feature called Geo tagging. With the help of this feature you can tag images or videos of your business or any business event.
This makes easy to target your local area audiences on a large scale to find your products or services, promote engagement, and drive more traffic to your email-gated events as well as on the landing pages.
Instagram lets users view posts based on the tagged location of the post. For example, if you own a local restaurant, you can upload photos of your restaurant with service description to your Instagram account and tag the photos with the location of your restaurant. Users will view all the uploads, sees your physical location, and has the opportunity to visit your business and/or follow you on Instagram.
A few of the popular brands using Instagram for businesses are Gentleman Jon Shave Company, Braithwait, Pura Vida, and so on.
#7 Encouraging User-Generated Content
Last, but not the least is, incorporating user generated content (UGC) into your content. In this, you can use images or videos that are self created by customers. Instagram effectively empowers you to use this content to repurpose or use in your own way. You can use proper hashtags, tags, contests, and different other means through which your audience starts submitting content to you like posting their images with your brand or product. And, best of all, you get great content to share among your audience to attract more followers.
Also, by using UGC, brands give genuine buyers the chance to tell real stories related to your product or business.
Conclusion
Thus, with the help of above given points, hope it's clear that what are the benefits of incorporating Instagram to boost up your business. It's the best platform if its features are explored and used to the maximum.
Still have queries related Instagram? Still, something is holding you back to come on Instagram? Do share with us in the comments given below. And, if you liked the article, don't forget to share.
Author: Varun Sharma
Started working as a digital marketing expert,
Varun Sharma
is now also a well-known digital marketing speaker – a speaker on performance development, and a trusted mentor to businesses in the digital world.