Trying to learn Chinese recipes for Chinese New Year? Or looking to book CNY parade? Want to book bus to join family for reunion dinner? These mobile apps are definitely made for you.
With Chinese New Year around the corner, you must be busy in preparation to have a great festive time. Some people may be honing their cooking skills to ace Chinese recipes while some may be checking out tickets for the parade. Then, there are the people who are purchasing red envelope for their near and dear ones. If you are away from home, you must be thinking about train/bus booking to join your beloved ones for reunion dinner.
Needless to say making preparation for such grand celebration is full of hassles and requires your time and effort.
Let mobile apps take a burden off your shoulders. Mobile apps simplify your daily life by letting you do the tasks with the few swipes and taps.
Read Also: Top 5 Real Estate Apps for Property Search in Singapore
Here we have handpicked the best mobile apps to facilitate your Chinese New Year celebration.
1) WeChat Red Envelope
Red envelopes are said to be a sign of good luck. They are given to kids and married couple as a gift of Chinese New Year. These envelopes generally contain money.
However, we insist you to save money and time by using WeChat Red Envelope mobile app.
It is a popular mobile app to send "red envelope" money to your friend's account. WeChat is very simple to use. Just enter the amount to send followed by entering a gift message. Then, tap a send option. The money will go to your friend's WeChat Pay account. It is a "must have "app for families and friends who are away from each other on the occasion of CNY.
2) Chinese Food Recipes for Quick and Easy Chinese Recipes
(Android)
Looking to prepare Chinese recipes this Chinese New year?
Whether it's making dumplings or soups, Chinese Food Recipes mobile app just fits the scenario. This mobile app has covered all Chinese recipes in the categories like appetizers, chicken, vegetarian, soups and many more. What makes it different are its easy instructions as thumb image, food description, ingredients, and guide.
Let's your guest have the meal made by you!
3) Food Panda for Ordering Food
Don't have time to prepare food? Okay, no problem! What about ordering Chinese food? And Food Panda is here to ease this hassle. The popular food delivery app in Singapore lets you choose from the menu of 500 restaurants in Singapore and order your favorite food in just a few taps and swipes.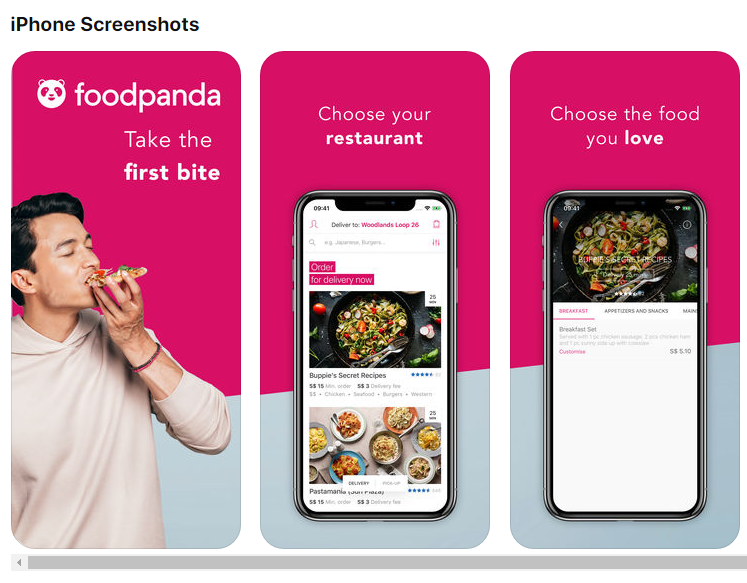 4) Easybook for Booking Bus
Whether you are looking to celebrate CNY elsewhere or want to join your family for reunion dinner, you should book a bus ahead of time. This is because bus booking will likely to be packed on February 13/14 as more people will start travel back to their hometown. Besides, bus tickets are sold out at least five to six weeks before CNY every year in Singapore. This is why you should book your bus tickets in advance to avoid last minute hassle.
Here comes Easybook mobile app! It lets you choose from more than 500 bus operators and over 10,000 bus routes to all destinations across Singapore, Thailand, Malaysia and Indonesia.
Read Also: Top 7 Must- Have Mobile Apps If You Are New to Singapore
5) SISTIC for Chingay Parade Tickets
Known as a major CNY attraction, Chingay Parade is a splendid procession featuring dancing dragons, colorful possessions, stilt walkers and many more. SISTIC mobile app lets you book the tickets to the parade, even if you are on the run. As an added bonus, the app locates nearby agents; and provides you latest updates regarding the event.
What are you waiting for? Just download these mobile apps and celebrate your Chinese New Year with convenience and comfort.
Author: Varun Sharma
Started working as a digital marketing expert,
Varun Sharma
is now also a well-known digital marketing speaker – a speaker on performance development, and a trusted mentor to businesses in the digital world.