Singapore is known for its diverse culture, cleanliness, food, education and the Marina Bay. The sparkling island is now making a stride in research and technology. Technology and Mobile Apps in Singapore has gone beyond being functional to something that drives an ambitious economy.
Although the country might be smaller than many major cities around the world, it has a wonderful pool of talent in technology. The country has already made its mark with water technology, petrochemical ecosystem and port management capability.
Apart from this, the nation has been at the forefront of creating gadgets and applications that have eased the routine life of an average Singaporean.
Here is a rundown of such gadgets and devices that are exclusively made in Singapore.
1. InkPlus Case:
InkPlus Case is the brainchild of Singapore based OAXIS INC, which has invented other award winning technologies like WatchPhone and Bento speaker.
InkPlus is a smart case for your smartphone. It eliminates the need of unlocking the phone every time to see notifications, pick up the calls or read the text. Simply put, it acts asa second functioning screen.
It has e-ink screen, the same screen used on Amazon Kindle, lets you display photos, read eBooks, articles and also help you in taking selfies.
The screen offers 19 reading hours. The case is available for all phones. You can even install apps on it or get notifications from your favourite apps. InkPlus case also protects the battery life of your phone as most of the text like news or messages is black and white, eliminating the need to turn on the power consuming LCD display.
Shop InkPlus from Here!
2. Touchpico:
Touchpico projector is from the house of Touchjet, a Segar Road based company started by two friends, Tom and Zhen in 2009.
Touchpico is a projector which fits into your pocket. It changes any flat surface into an 80-inch touchscreen.
So you can have you show anywhere, from watching movies, playing games to making presentations. It comes with the Lily Digital Pen to interact with the projected images. Or you can use TouchJet Mobile app to control the projected images. The app also lets you share the files and videos directly from your smartphone or other devices.
Shop Touchpico from Here!
3. Buccaneer 3D Printer by Pirate3D
Buccaneer 3D Printer has been designed by Singapore start-up company Pirate3D founded by Professor Neo KokBeng and 3 university graduates. The project was started on a crowdfundingwebsite, Kickstarter. And today it is one of the most successful 3D printers in the world.
Buccaneer 3D Printer is useful for both homeowners and industrial use. The printer is a great investment for any craft maker or a model builder. They can get any tangible shape and size, from making a bottle holder, key chair to even a missing chess piece. You can pull information directly from the vendor's store, Treasure Island. Or you can connect it to a PC or mobile device to make your print.
4. Creative Sound Blaster Soundcard:
Creative is known for giving quality multimedia products worldwide. Established in Singapore in 1981, the company started with a vision that multimedia could make the interaction with PCs more enjoyable.
And the same company is credited for revolutionizing the PC's sound with the introduction of the Sound Blaster in late 80's. In fact, the sound card gave the computer a voice. Over the years, the company was the first to introduce a game port and a recording port in the card.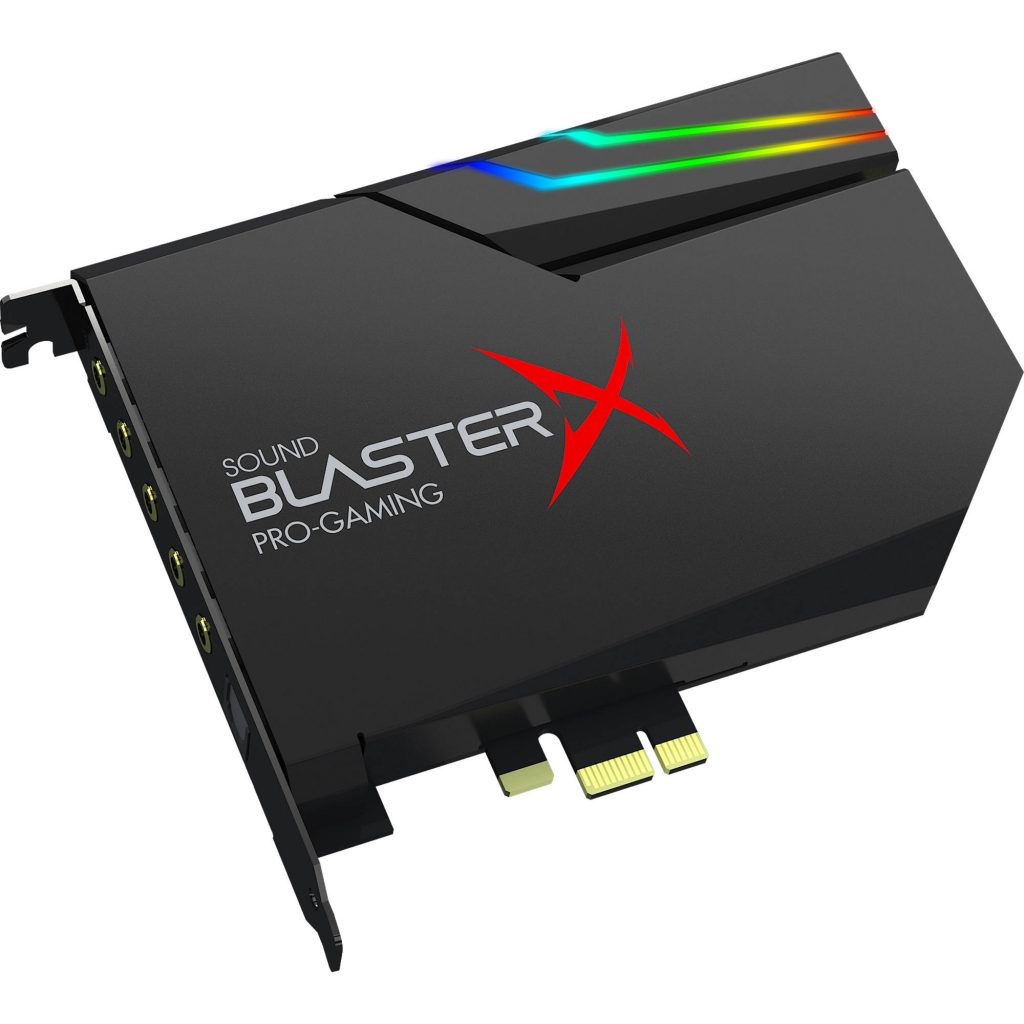 Soon these cards became standard for consumer audio on the IBM PCs, which were the widely used computers of that time. By 1995, 70% sound cards sold worldwide were Sound Blaster. Another reason to proud on our technology!
Shop Creative Sound Blaster Soundcard from Here!
5. Infrared Fever Screening System
There is a thermometer to measure the individual's body temperature. But it won't be feasible to measure large groups of people for the symptoms of fever. Right?
The solution lies in an infrared fever screening system. It was made in Singapore in 2003 to deal with the outbreak of severe acute respiratory syndrome. And it is the first infrared-based system in the world to be used for fever screening of large groups of people. The screening system was invented by the Defence Science and Technology Agency and Singapore Technologies Electronics. The system is equipped with a two-point detection to screen large groups for temperature, starting with thermal images.
The first detection point is to filter febrile persons using thermal imagers while the second detection point is the confirmation that the subject has a higher body temperature using traditional thermometers.
Bottom Line:
So these are the devices that are made exclusively in Singapore. These devices are not only useful and made life easier, but also prove the mettle of Singapore in the field of technology and research. Investing on those products will encourage our researchers and manufacturers to come up with more amazing home-grown products.
What do you think? Do you want to share something? Please drop your comments below.
Started working as a digital marketing expert,
Varun Sharma
is now also a well-known digital marketing speaker – a speaker on performance development, and a trusted mentor to businesses in the digital world. His keynote expositions are based on the digital marketing theories, which provide a fascinating insight into the secrets of high performance.